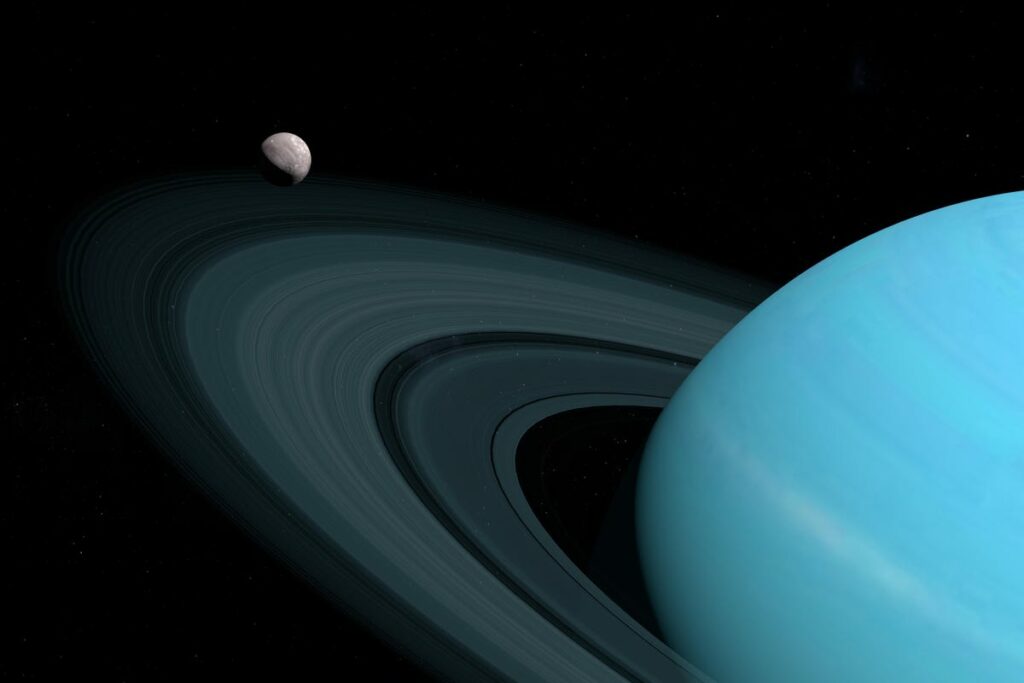 Natal Uranus in the 7th house of a native's chart will definitely bring a lot of turbulence in all matters connected with marriage, business partnerships and other forms of unification. The 7th house is traditionally ruled by Libra and Venus; therefore the erratic planet of Uranus brings discord and unexpected events that do not blend harmonically with the gentle energies that the house bears. Uranus is making the native have a strong need for freedom; this can frequently manifest as a tendency to not get married if the person is conscious enough of his needs. The native might realize through his relationships that his privacy and freedom of actions are an important priority, and establish more open patterns of partnerships with his significant others.
This planet in 7th house indicates that it is in the field of relationships and in particular associations or union that we will show our originality and our desire for independence. As a result, this relational domain (and therefore not only affective) can be marked by changes, encounters, ruptures and a need for novelty. In any relationship (even at the level of a professional collaboration), it is necessary to have or keep a certain autonomy, and therefore the fact of being based on reciprocal understanding and independence. But it is necessary to expect to have a relational life which can include sudden changes (positive or negative). Of course in this 7th house, the spouse can also have a Uranian dominant, it would be quite logical.
The good aspects of Pluto and Neptune are generational and therefore not very influential unless they control an emotional house.
The good aspects of Saturn will help to better manage the changes in this relational field….
those of Jupiter will make it possible to find independence there and to better affirm the personality there…

those of Mars will push to bring originality in relationships…

those of Venus will allow good communication and therefore a good balance…

those of Mercury will improve intellectual communication in relationships…

those of the Moon will give dynamism and a well-lived and motivating emotional side…

those of the Sun will allow us to conduct relationships as we wish without losing our personality, and with capacities for positive renewal.
With negative aspects of Saturn, it will be more difficult to stabilize relations precisely because of too great a need for independence…
with those of Jupiter, the risk will be of wanting to impose oneself too much and prefer freedom, and therefore free union rather than legality…

with those of Mars, there will be more emotional tension and therefore possible power struggles…

with those of Venus, affective communication will be more delicate and the risk of marked instability…

those of Mercury will push to discuss, argue, provoke, with the consequences that this can have…

with those of the Moon, the difficulty will be at the level of daily life and therefore the difficulty of being on the the same wavelength…

with those of the Sun,the difficulty will be to support the constraints and the lack of freedom in the relations, with thus a marked risk of rupture.
As always, summarizing the aspects to Uranus, taking into account the sign of the 7th house, which is the backdrop for how this area is experienced.
Each planets have a different effect on you, depending on which house and sign they reside in. In order to find out where they are located in your natal chart, you can use our free birth chart generator. Also, examine the aspects that they form with other planets in your chart. You will understand a lot more about the detailed role that they have in your horoscope.